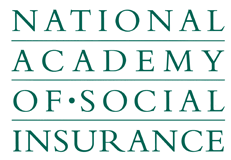 [EVENT] Social Security – It Pays to Educate at the National Urban League
The Academy co-hosted a convening on August 25 with the National Urban League Washington Bureau, as part of an ongoing partnership centered on the Academy's public education initiative and older workers' toolkit, When to Take Social Security: It Pays to Wait. Academy Members Bill Spriggs, Chief Economist of the AFL-CIO, and Monique Morrissey, Economist at the Economic Policy Institute, as well as the Academy's Kristen Arnold and Ben Veghte, presented information on the importance of the program to communities of color, things for older workers to consider before taking Social Security benefits, and policy options to strengthen the program. A robust discussion followed by attendees from prominent labor, African American, financial, and women's organizations. The Academy looks forward to future work with the National Urban League Washington Bureau. Contact Kristen Arnold (karnold@nasi.org) with questions about the initiative or for free copies of the Academy's toolkit resources.
DEADLINE EXTENDED: Law Student Writing Award & Dissertation Award 
In order to better accommodate the schedules of students and professors, the Academy has extended the deadline for nominations of its two writing awards, which recognize superb scholarship on social insurance issues. Each award is $2,500.
Nominations for both are now due by October 1, 2015. ​The awards will be bestowed at NASI's annual policy research conference in Washington, DC on January 27, 2016.
We're Hiring!: Health Policy Analyst Position Opening
The National Academy of Social Insurance seeks a mid-level Policy Analyst to work on a wide range of social insurance issues involving Medicare, Medicaid, long-term services and supports and health care reform implementation. The analyst provides direct research, program and administrative support to the Vice President for Policy and other Academy members and staff as needed. Please spread word of this opening to your networks. Read the full posting.