Tuesday, June 21, 2016
The Social Security Trustees will release their annual report on Wednesday, June 22 at 10:30 a.m. Eastern time.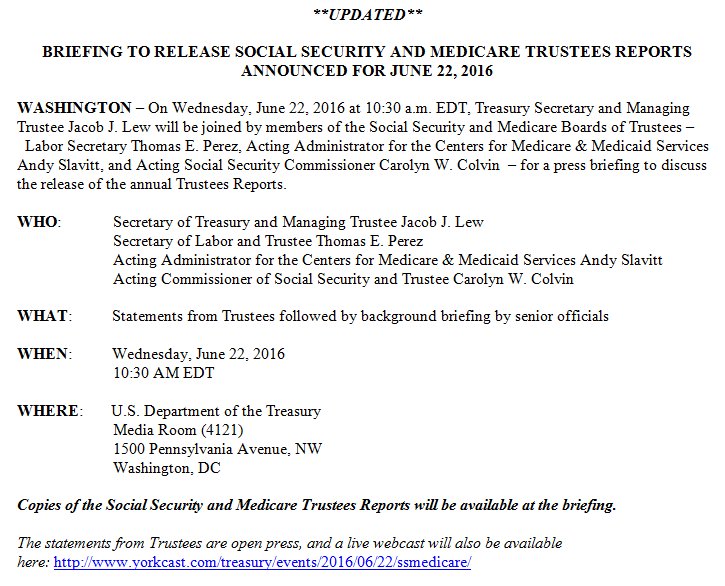 Read more!
Posted by

Andrew G. Biggs
at 3:52 PM
0 comments


Links to this post
I wanted to make sure that you were aware of two recent developments related to the work put forth by the McCrery-Pomeroy SSDI Solutions Initiative.
Last week Senators Cotton (R-AR) and Lee (R-UT) announced legislation aimed at improving and prolonging the life of the SSDI program based on the recommendations put forth by Kim Hildred, Pamela Mazerski, Harold Krent, and Jennifer Christian in the recently published SSDI Solutions: Ideas to Strengthen the Social Security Disability Insurance Program. This legislation, among other things, would expand Continuing Disability Reviews (CDRs), change the benefit structure for medical improvement expected and medical improvement likely recipients, and establish a demonstration project to encourage work and allow for increased earnings for time-limited beneficiaries. You can read more about the legislation here and see our analysis and commentary here. The SSDI Solutions Initiative chapter this legislation is based on is available in its entirety here. 
In another development, authors Yonatan Ben-Shalom, David Mann, and David Stapleton of the Mathematica Policy Research Center for Studying Disability Policy recently published a policy brief further examining the ideas put forth in their chapter for the SSDI Solutions Initiative about the need to modernize early intervention programs and other improvements to the way in which people enter into the SSDI program. You can read more about this brief and other work by the authors here. 
We hope that our project will continue to influence the debate in this country over how best to improve the programs for people with disabilities. To learn more, you can visit our website at http://www.SSDISolutions.org and purchase your own copy of SSDI Solutions: Ideas to Strengthen the Social Security Disability Insurance Program on Amazon.
Read more!
Posted by

Andrew G. Biggs
at 11:37 AM
0 comments


Links to this post
Friday, June 17, 2016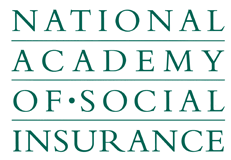 What's the News in the 2016 Social Security Trustees Report?
Register Now – Space is Limited Thursday, July 23, 2016 ~ 10:00am– 11:30am
Dirksen Senate Office Building, Room 608
Don't miss this opportunity for an in-depth explanation of the trustees' projections of Social Security's long-term finances. Attendees will hear from the Chief Actuary of the Social Security Administration, Stephen C. Goss, and other experts. Panelists will answer questions such as: Will benefits be adequate to meet retirees' needs in the coming decades? Can we afford Social Security in the long term? What options do policymakers have to ensure that Social Security remains adequate and secure for the long term?  Register here to get answers to your questions.
Speakers:
Stephen C. Goss, Chief Actuary, Social Security Administration
Bill Hoagland, Senior Vice President, Bipartisan Policy Center
Benjamin Veghte, Vice President for Policy, National Academy of Social Insurance
Moderator: Mikki D. Waid, Senior Policy Analyst, National Academy of Social Insurance
Attendees will receive copies of the Academy's new brief, Social Security Finances: Findings of the 2016 Trustees Report.
The National Academy of Social Insurance is a nonprofit, nonpartisan organization made up of the nation's leading experts on social insurance. Its mission is to advance solutions to challenges facing the nation by increasing public understanding of how social insurance contributes to economic security. Visit www.nasi.org for more information on Social Security and other social insurance programs.
Read more!
Posted by

Andrew G. Biggs
at 9:32 AM
0 comments


Links to this post
Thursday, June 2, 2016
Over at MarketWatch, Boston College economist Alicia Munnell takes issue with the Committee for a Responsible Federal Budget's "10 Myths" regarding Social Security reform.
You'll have to read them point-by-point to judge who comes out on top. And I hope the CFRB comes out with more thoughts, since it's good to keep the discussion going.
I tend to be more partial to the CFRB's point of view on the specifics, but there is one passage by Munnell that really speaks to me. She writes:
I love the Social Security program, believe it is the backbone of our retirement system, and would like to see 75-year financial balance restored. That said, budget people scare me when looking at Social Security. They see the 75-year shortfall as a simple mismatch of revenues and expenditures, want the gap closed, and many – not all – don't care very much how that is done. My view is that Social Security will be the major source of income for most of the population, so cutting benefits, as opposed to putting in more revenues, would be a serious mistake.
My time working on Social Security reform in the Bush Administration convinced me that Munnell's point here has merit. Not the "don't cut benefits" part – I'd still do that. But I think that fiscal conservatives too often look at Social Security as a budgetary problem to be solved while paying insufficient attention to how Social Security is functioning as a social insurance program for Americans. Yes, Social Security has to be solvent, but there's more to a good Social Security program than simply not going broke.
That's why, once I joined the American Enterprise Institute, I stepped back a bit and thought about how I would want Social Security to work as a program, and not simply how would I make the current system solvent. That led to an approach that's different than the system we currently have, but that has some important similarities to the pension systems in New Zealand, the U.K., Canada and Australia. You can read about plan that here.
Read more!
Posted by

Andrew G. Biggs
at 1:30 PM
3 comments


Links to this post